Enon Elementary School to hold Groundbreaking Ceremony
.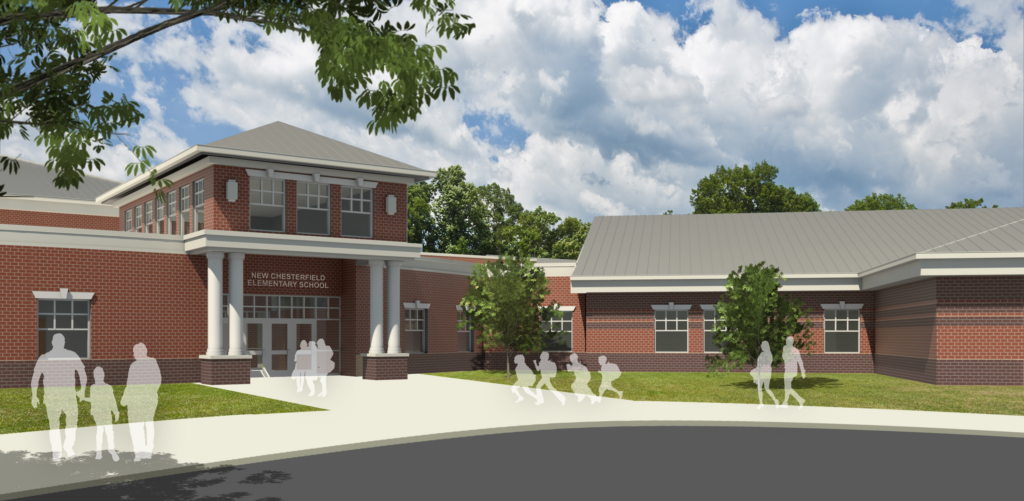 September 22, 2017
Chesterfield County Public Schools will host a Groundbreaking Ceremony today at the new Enon Elementary School, on the site of the original school building.
The original building, built in 1938, was demolished this summer. After five renovations and additions, a facilities assessment found it needed numerous repairs, leading Chesterfield County Public Schools to decide to replace the aging building with a new elementary school.
The new elementary school is scheduled to finish construction by November 2018 and open for students and staff in January 2019. Students are temporarily being housed at Marguerite Christian Elementary while the new school is being built.
The replacement school will be located on the same 13-acre site just off East Hundred Road. Two additional parcels of land were purchased in order to expand the play field area.
The new 91,726 SF facility includes three classroom wings that will each contain two grade levels. The cafeteria and gymnasium are side by side and have an operable wall between them that can be opened, allowing both spaces to be used together for large assemblies.
Enon Elementary School is one of four Chesterfield elementary schools using a prototype designed by RRMM Architects. The County opted to utilize a prototype design to save time and money. These new schools are part of a 2013 bond referendum that focused on renovating or replacing older school facilities. Enon is the second of the four elementary schools to start construction.
About Chesterfield County Public Schools
Chesterfield County Public Schools is an award-winning school system preparing students to adapt and thrive in a rapidly changing world. The school system embraces blended learning, project-based learning, and service learning to provide an engaging and relevant education. These three big ideas are based on national best practices and research and are the bedrock of their Design for Excellence 2020, the strategic plan for Chesterfield County Public Schools.