Eastern Shore Community College Hosts Groundbreaking Ceremony
.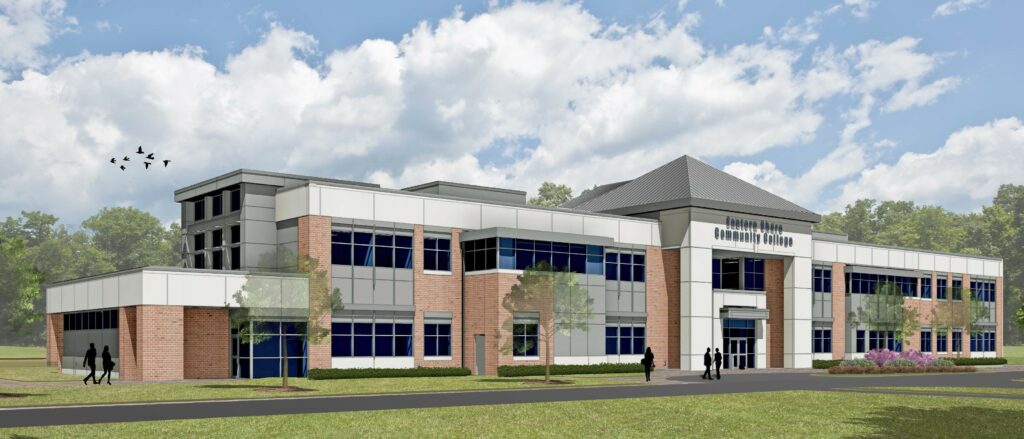 October 16, 2017
Eastern Shore Community College (ESCC) hosted the groundbreaking ceremony for their new Administration and Academic Building on Friday, October 13th. The College Board, ESCC Foundation Board of Directors, faculty and staff of ESCC, as well as architects and engineers were present for the official launch of activity on the new, 49,2016 SF academic building. The new two-story structure will replace the original 1970s-era academic building.
The new building will be positioned adjacent to the existing Workforce Development Services building. It will contain a Learning Resource Center (LRC), Student Services Center, student lounge, bookstore, administrative offices, science labs, as well as additional classroom space.
The Learning Resource Center includes a learning commons area with dedicated computer kiosks for student research and studying, a public lounge area, a digital media collection, joint circulation, and reference help desk, individual/small group enclosed study rooms, a media production facility all in addition to a more traditional print media stack array. The LRC is designed to be an open, inviting, efficiently laid out space with all services immediately identifiable upon entry.
The Student Services Center is conceived as a one-stop "shopping mall" for student services. A reception/help desk within a front waiting area helps guide students to financial aid, tuition, tutoring, career counseling, veteran's assistance, admissions, registrar's office, success coaches, WIA case managing, and a placement/secure testing facility. Students will no longer have to roam from office to office or building to building to conduct their business or to get assistance. These jointly located services will reinforce and support each other in efficiently meeting the student needs.
Overall, the new building, with its state-of-the-art technology, will allow ESCC to not only provide more programs, but also to deliver a more advanced learning and training environment. The building is scheduled for completion in early 2019.
About Eastern Shore Community College
Eastern Shore Community College (ESCC) is located on a 115-acre site on U.S. Route 13, south of Melfa in Accomack County, Virginia. The College was originally a branch of the University of Virginia, but joined the Virginia Community College System in 1971. ESCC serves the residents of Accomack County and Northampton County as a two-year college offering associate degrees, certificates, job training, and adult education. To learn more about Eastern Shore Community College, please visit http://es.vccs.edu/.