RRMM Architects to Design New EVMS Education & Academic Administration Building
.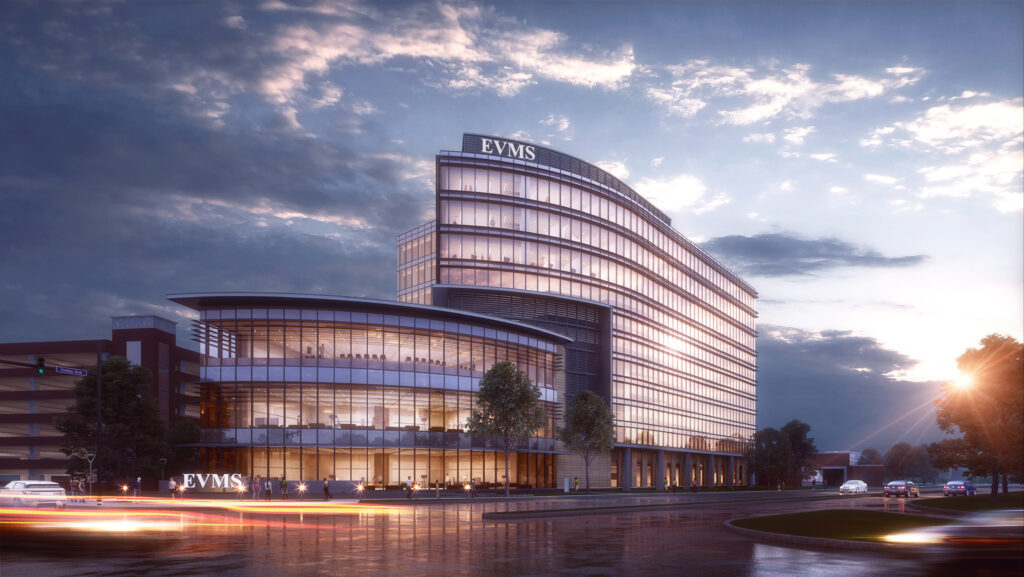 July 05, 2017
RRMM Architects was recently awarded the contract for Eastern Virginia Medical School's new Education and Academic Administration Building. This new 144,000 SF facility, to be completed with design consultant EYP, will house the M1, M2 and Medical Masters programs and staff. It will also provide additional parking in the form of a 350-space parking garage.
"When the right team comes together to undertake a transformative project such as the new EVMS Academic and Administrative Building, great things happen," says Bill Boyce, Senior Project Manager at RRMM Architects.
Consolidating numerous academic support departments currently dispersed both on and off the EVMS campus, this new signature facility will strengthen EVMS's purpose as a provider of excellent medical education.
"The really exciting part of this for me personally," says Dan Hickok, Director of the Special Projects Studio at RRMM, "is to play a role in developing a building that will house some of the best and brightest men and women who, through their education at EVMS, can and will enhance the lives of so many others in our community and beyond through their research and care."
In addition to administration space, the new building is being designed to include classrooms, small group study rooms, and a testing center. It will also address facility needs for hosting internal and external events, such as a first-floor lobby suitable for event space and an area for event-related food preparation.
"As a group, we are excited about this project as it will be an opportunity to create not only a signature gateway to EVMS, but enhance the administrative functionality and provide state-of-the-art learning spaces for one of the Commonwealth's premiere institutions," says Boyce.
About Eastern Virginia Medical School
Eastern Virginia Medical School, frequently referred to as EVMS, is a public-private medical school in Norfolk, Virginia. Founded in 1973 to improve a severe shortage of physicians in Hampton Roads, EVMS proved to be a key catalyst in the region's medical vitalization. EVMS offers a variety of graduate and doctoral degrees in the medical and health professions. As the largest biomedical research institution in southeastern Virginia, EVMS has been on the forefront of innovative medical discoveries. For more information, please visit www.evms.edu.