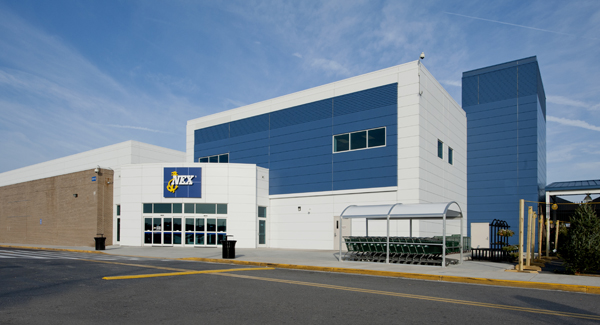 Naval Station Norfolk Navy Exchange
.
Norfolk, Virginia
Naval Station Norfolk's Navy Exchange underwent a 200,000 SF multi-phased renovation and a 73,000 SF two-story addition. Newly designed and renovated spaces include a retail display and merchandise area, as well as specialty shops such as a uniform shop, barbershop, optometrist, food court, administrative offices, and warehouse spaces. The design incorporates new finishes throughout the facility to brighten and enhance the shopping experience for Navy personnel and their dependents. To further that experience, all new HVAC and electrical systems were installed, with the added benefit of substantial per-square-foot energy savings. The project construction was comprised of 26 phases to minimize operational disruption and prevent any net loss of retail space. The exterior design provides a sophisticated dynamic entry experience and 200 additional parking spaces were added to accommodate the increased shopping capacity. 
A companion project to the renovation and addition of the main Navy Exchange Project was the renovation of the Food Court. This involved vacating five food vendor spaces and completely renovating the fronts and food prep areas with modern, updated service spaces. The centerpiece of the design was the new public seating area. New porcelain flooring was installed that included a patterned floorlit pathway.