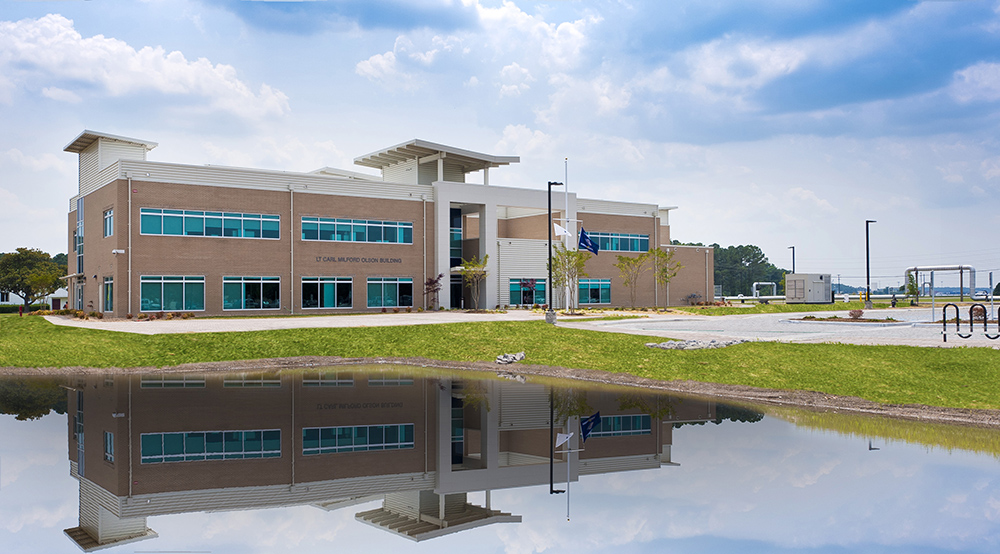 1st Naval Construction Division Operations Control Facility, P-851
.
Norfolk, Virginia
This design-build project provided a 28,331 SF, two-story headquarters facility for the 1st Naval Construction Division – the Seabees. The new building includes office space, communication spaces and support spaces, such as conference rooms, break rooms, and reception areas. Portions of the work included secure spaces required to meet DCID SCIF regulations. The design team's goals were twofold. First, they strove to provide a highly visual, quality building that is readily identifiable as an icon of the installation. Secondly, they wanted to design a place that satisfied the needs of its occupants by providing a sophisticated, yet understated, state-of-the-art facility worthy of the high ranking officers that will occupy it and the high profile guests who will visit it. These goals were accomplished by accenting the entrances with a striking butterfly roof to make it easily identifiable. This design element, along with a controlled use of metal panels strategically placed along the facade, contributes to its overall visually interesting composition. 
The building features many sustainable and green features. Significant features include a rain harvesting system used for toilet and urinal flushing as well as irrigation. Permeable pavers in the parking lot reduce run-off and pollution and bio retention swales comply with the Navy's low impact development mandates. A geothermal rooftop unit is included along with a high efficiency reverse cycle geothermal chiller and a closed geothermal well field located under the parking lot. These, along will multiple other sustainable features, contributed to the building's LEED Platinum certification.