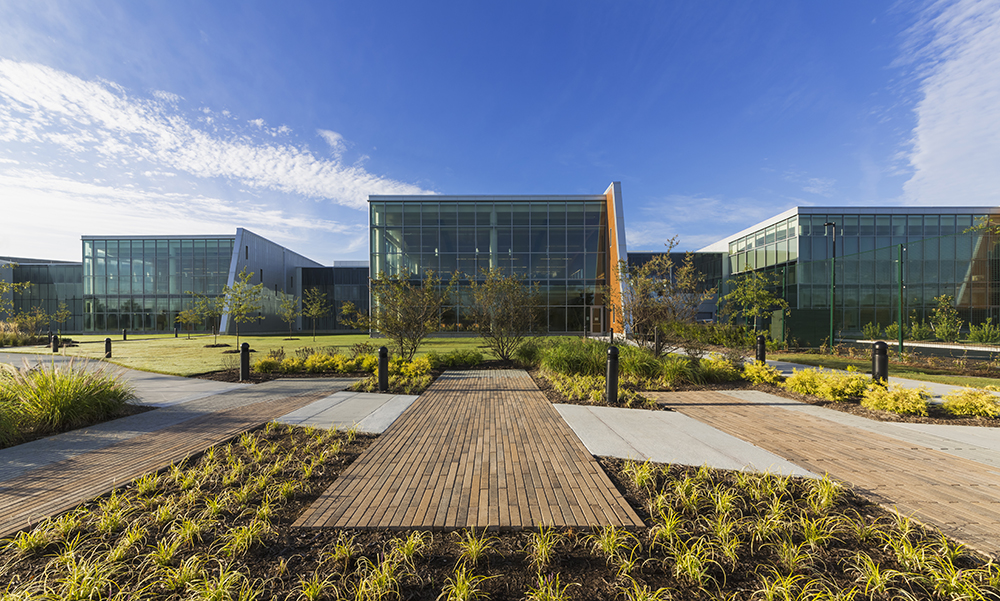 Tidewater Community College & City of Virginia Beach: Joint-Use Library
.
Virginia Beach, Virginia
This joint-use, multi-story library was financed by both the Virginia Community College System and the City of Virginia Beach. As the first joint-use library in Virginia, the City of Virginia Beach and Tidewater Community College Learning Resource Center is a center of distinction and sustainability. The idea of joint usage is to build a combined facility that stimulates life-long learning and encourages social interaction as a method of teaching. Multiple programming sessions with held with TCC, VCCS, and Virginia Beach Public Library stakeholders to ensure that the final building program and design met their needs. The facility houses spaces for open computer labs, interactive labs, classrooms, study spaces, display areas, meeting and conference rooms, café, staff office spaces, and designated areas for children and teens. The 124,997 SF building is sited so that it can be expanded horizontally in the future by another 50,000 SF, if needed.  
The building's design responds to its unique site on an abandoned agriculture field. It creates ample opportunity to invite light into the space. The design is spread over two floors that are strongly connected vertically. Two areas of particular attention are the main street circulation spine and the vaulted learning commons and grand reading areas. These spaces have higher volumes to maximize the use of daylighting, provide visual simulation and reflection, and to acoustically zone each area appropriately for its uses, thus protecting adjacent functions. The floor openings occur along the major circulation spine to enhance wayfinding and optimize the use of natural daylighting. This building is certified LEED Gold.