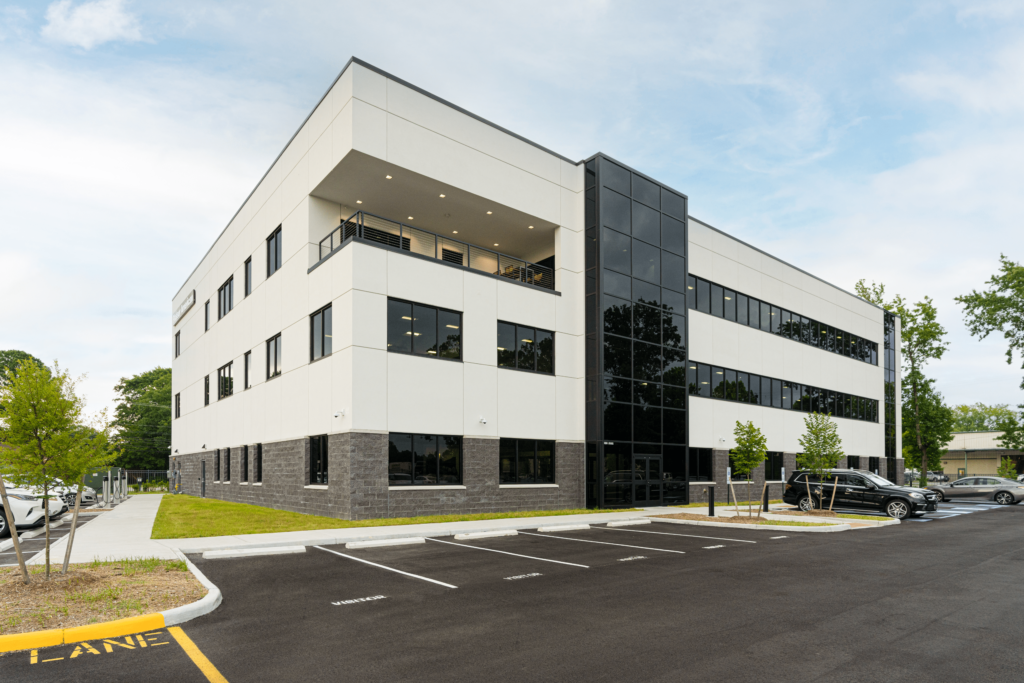 Plasser American
.
Chesapeake, Virginia
Plasser is an international company that manufactures heavy equipment and machines that service the railroad industry worldwide. Founded in 1960, Plasser American is headquarted in Chesapeake, Virginia. Having outgrown its existing facilities, RRMM and our design-build partner, MEB, developed a master plan that outlined a new office building and an expanded manufacturing plant. The new office building for Plasser American is a three-story facility designed to reflect Plasser's corporate culture and sustainability goals. The conventional steel-framed structure allows each floor to maintain a healthy mix of open office areas, private offices, and collaboration spaces. Ribbon windows provide ample daylighting while also minimizing internal solar gain. Sustainable building systems include a high-efficiency VAV mechanical system, LED lighting, and rooftop solar panels. The modern interior design incorporates biophilic principles with live planter walls and the use of wood and earth tones.
To produce Plasser American's new office building, the RRMM-MEB design-build team relied heavily on advanced modern technology. From the first day of design and planning, the team utilized building information modeling (BIM) to coordinate design decisions. Midway through construction, Plasser American hosted an international gathering to celebrate the company's 60th anniversary. Our team was able to provide attendees with a tour of the new office building using augmented and virtual reality.