Joan Perry Brock Center Dedication Celebrates Project Completion
.
September 05, 2023
Nestled in the heart of Longwood University's campus, the new Joan Perry Brock Center is officially open and ready to welcome attendees in time for the 2023 basketball season. This 72,000 SF arena features 3,020 seats and will serve as a convocation and events center for the University. Construction on the center began in May 2021 and finished this summer.
Major players involved in the creation of this new facility gathered on campus two weeks ago to celebrate the opening of this momentous project. Activities kicked off on Thursday evening with a dedication ceremony. The ribbon cutting ceremonies were held the following day, on Friday, August 25. Hundreds gathered to celebrate the official opening of the Joan Perry Brock Center.
Members of RRMM were in attendance for the ceremonies. Firm leaders and the project team were on site for the dedication and ribbon cutting of the RRMM Architects Athletics Director's Suite. Following the ceremonies, the University opened the facility for its inaugural pep rally.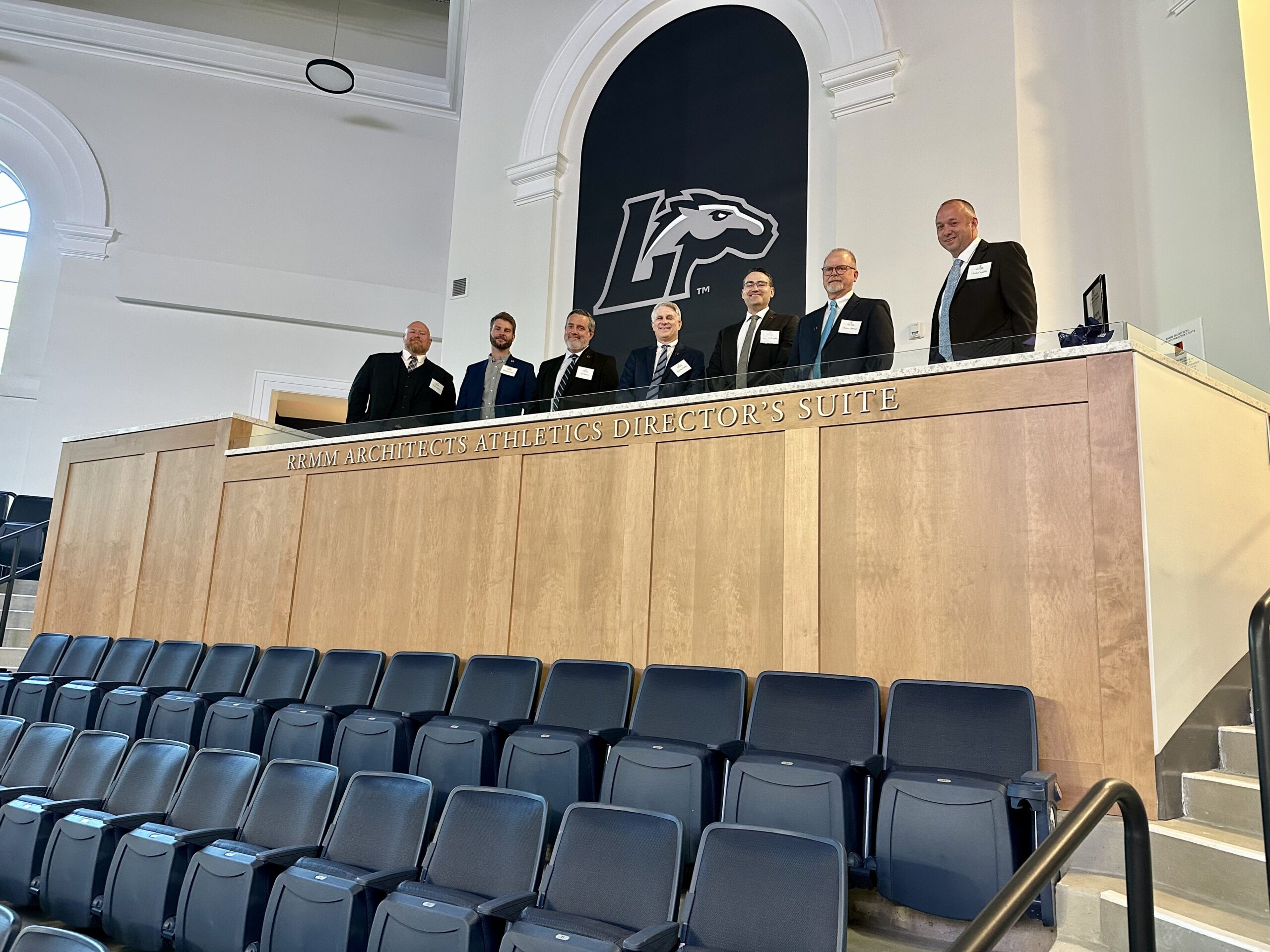 "Working on the JPB Convocation Center was a very rewarding experience and holds a special place in my architectural career," says Jim Pociluyko, RRMM's project manager for this project. "I loved contributing to Longwood University's campus legacy alongside its namesake patron, Joan Perry Brock. The new convocation center will create many great memories for years to come."
The Joan Perry Brock Center was made possible by Joan Brock, a community leader and philanthropist. She graduated from Longwood University in 1964 with a degree in secondary education and a minor in mathematics. Throughout her lifetime, Mrs. Brock worked closely with her husband, Macon Brock, who co-founded Dollar Tree. They are well known for their generous history of giving, which spans multiple decades and areas of interest. Mrs. Brock donated $15 million for Longwood's new convocation and events center, the largest gift in the University's history. Mrs. Brock was at Longwood to attend last week's ceremonies, ceremoniously throwing the first basket in the new venue.
The new facility will be home for university and community ceremonies, athletic competitions, events, lectures, and concerts. Longwood University has previously hosted national events, such as the 2016 Vice Presidential Debate. The Joan Perry Brock Center will be an integral addition for the University, providing them with a venue that can accommodate future hosting opportunities.
This new facility is located in the Brock Commons area of Longwood's campus. Brock Commons is a pedestrian mall through the center of campus, which was also made possible by the Brock family.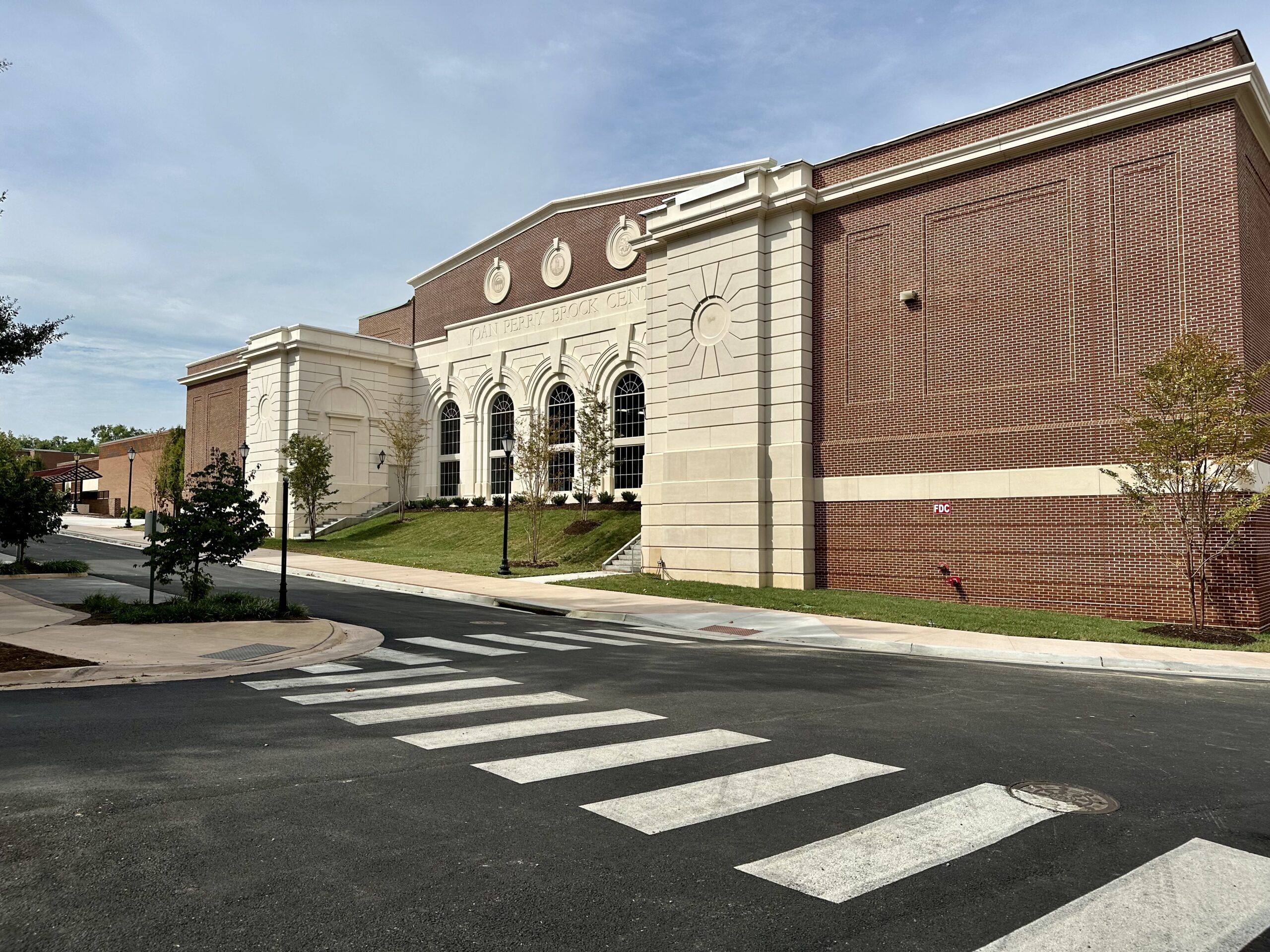 The Joan Perry Brock Center is designed to embody Longwood's traditional Jeffersonian architectural style. Jeffersonian architecture is inspired by Thomas Jefferson himself, a self-taught architect. His designs were influenced by French and Italian architecture from his time traveling abroad in Europe as an ambassador. This style of architecture is characterized by red brick, white columns, serpentine walls, and arches. The new building features red brick, highlighted by light-colored trim. The building includes three entryways, which are all highlighted with a series of continuous arches.
RRMM served as the executive architect alongside AECOM as the sports/venue architect, Franck & Lohsen Architects as the historic architect, and HG Design Studio (acquired by VHB) as the landscape architect.
To learn more about this project and see more photos, visit the Joan Perry Brock Center project page on our website.