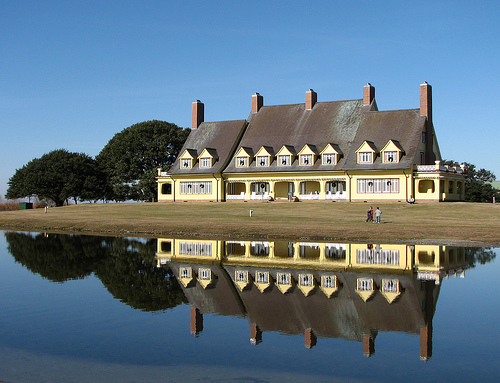 Whalehead Club
.
Currituck County, North Carolina
RRMM originally began working in the late 90's on the master plan for Whalehead's Clubs 30-acre site and the restoration of the 23,000 SF private residence built in the 1920s. With input from Currituck County, County residents, the Whalehead Preservation Trust, the State Historic Preservation Office and selected consultants, RRMM created a master plan to ensure that the National Register structure and site would be transformed into a house museum that met register standards. Following the completion of the master plan, RRMM proceeded with the renovation. As a structure susceptible to the environment of both the sound and the ocean, close attention was given to the stucture's foundations, doors, windows, roofing, and masonry. A stabilization project was included to provide weather and flood protection and address needed structural repairs.
The master plan addressed site issues related to vehicular, pedestrian, emergency, tour group, and boat launch traffic. Modern circulation patterns and materials were removed or relocated to conform to the 1978 register nomination.