Laser Scanning Services at RRMM
.
May 19, 2023
RRMM offers our clients a service few other firms can provide — building scanning. Many companies outsource scanning, since owning the software and hardware can be time consuming and expensive. RRMM owns the laser scanning equipment and software in-house. We also stay on top of the latest in scanning technology and trends. Not only can we laser scan a building, but we also provide a fully usable building information model for our clients. We have the working knowledge and experience to compile this scanned data and produce working documents or models.
Given the numerous existing variables and physical conditions, laser scanning is one of the best tools we have to provide our clients with detailed information about their facilities. With our 3D laser scanning technology, RRMM can provide a higher level of detailed information about your existing building with greater accuracy, and in the same amount of time or less than it takes to perform a traditional manual field investigation.
A common misconception about laser scanning is that it is x-ray technology that can see through walls. In actuality, laser scanning is a line-of-sight technology. What you see is what the laser sees. Our laser scanners take photos in 4k resolution, which in turn, provide a clear, panorama image of the area. Regular photos are not able to capture the space like 360-degree laser scanning.
Once the walls are scanned, they are converted into the Point Cloud. This technology can give extremely accurate measurements of width and height, which is helpful for determining the actual dimensions of rooms and wall distances. Our laser scanner provides accurate scanning of up to 100 millimeters away within two millimeters of accuracy. They are so detailed that they can show ultra-fine features such as the perforations on the ceiling tiles.
Using our in-house software, we are able to import the information from Point Cloud into REVIT. With the point cloud in REVIT, we can create the floor plans, cut sections, and document the existing conditions of the building. This laser scanning technology allows us to cross reference existing blueprints. Based on the results, we then confirm or update existing conditions.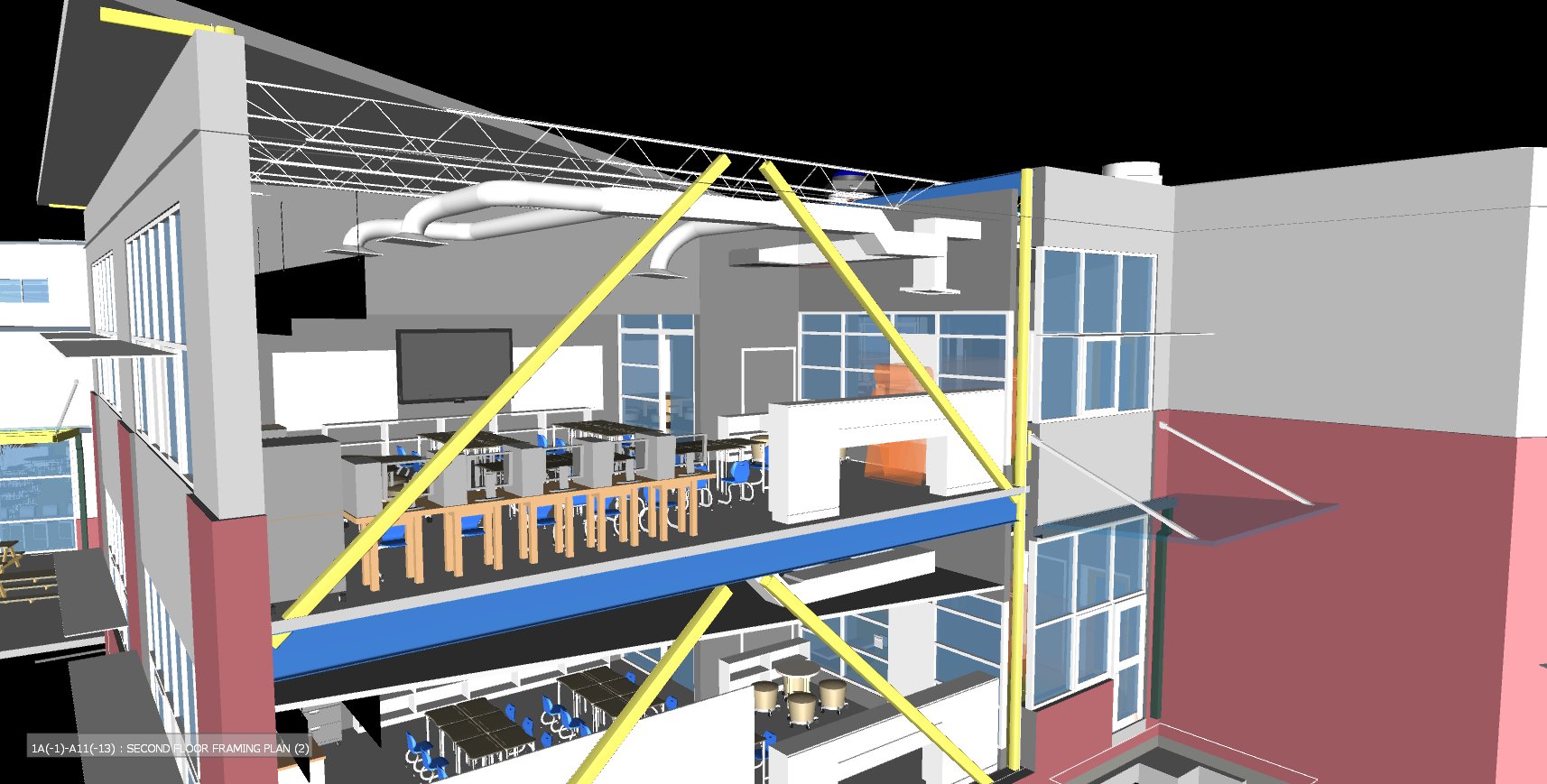 For example, at a recent high school we laser scanned, we discovered the walls were wider than the original building blueprints. In other instances, buildings have no existing plans, or their plans are outdated. A common occurrence is that facilities managers contract work on their buildings without involving architects, therefore the work is not reflected or updated on the building plans. In these scenarios, laser scanning is essential to determine the current building parameters.
Scanning allows us to identify and address potential constructability issues, lessening the possibilities for surprises during construction, as well as the potential for RFI's and change orders. It also allows us to provide a series of 3D walk-through presentations so that our clients have a very clear understanding of their existing conditions.
Before laser scanning, our main tools to confirm space size were sketching, verifying existing client provided drawings, and tape and single laser measuring tools. Current scanning technology has proven much more efficient, allowing us to obtain all the needed information the first time around. It also captures building conditions that were not readily available through traditional surveys.
Besides verifying and documenting existing conditions, laser scanning has proven helpful in additional scenarios. It can take thermal readings to show hot and cold areas, which helps to detect leaks in insulation. It identifies dips in roofs and low spots in floors, and verifies mechanical, electrical, and plumbing in ceiling cavities. It can be used to document the layout of existing items, such as furniture and markerboards, to ensure that everything is returned to its original location after construction. Laser scanning can identify materials and existing color palettes to aid in design decisions. Contractors are beginning to use laser scanning to document building progress, not just for renovations and additions, but also for new construction projects.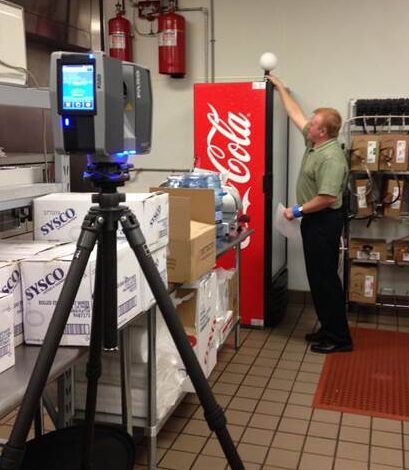 Jason Sturniolo is RRMM's Director of BIM Technology. He ensures that RRMM is following a national standard for laser scanning protocol. Jason is a REVIT certified professional, and part of the National Institute of Building Sciences, National CAD Standards, and National BIM Standards committees.
When Jason is on a job scanning, he is constantly moving his scanner, walking about 15 miles a day. When asked about the craziest place he has scanned for the firm, he recalled the time he had to ride on top of an elevator to document the elevator shaft and the hydraulics on the elevator. Other interesting spaces include crawl spaces and basement tunnels, proving that it is not a job for the faint of heart.
If you are gearing up for a renovation or addition, consider the positive effects that laser scanning could provide your project. No one likes mid-stream surprises, and laser scanning could mitigate those risks. Your RRMM Project Manager and Jason Sturniolo are always available to answer your laser scanning questions.